The relatively small highland Carpathian village of Yablunytsya (the local population here is slightly more than 2 thousand people) has a very favorable geographical location: it connects the two largest tourist recreation centers in the Carpathians – Yaremche and the famous Bukovel ski resort. To Yaremche from Yablunytsya go along the highway – about 35 kilometers, to Bukovel much closer – 11 kilometers.
One of the most important transport arteries of the Carpathians, the Lviv-Rakhiv highway, passes through Yablunytsia, and the picturesque Yablunytsya Pass separates the Ivano-Frankivsk region from the Transcarpathian region. Here, tourists can visit almost the best viewpoints of the Carpathians, from which you can see the highest mountain in Ukraine – Hoverla, as well as Petros and the Svidovets ridge, while not going far from the highway.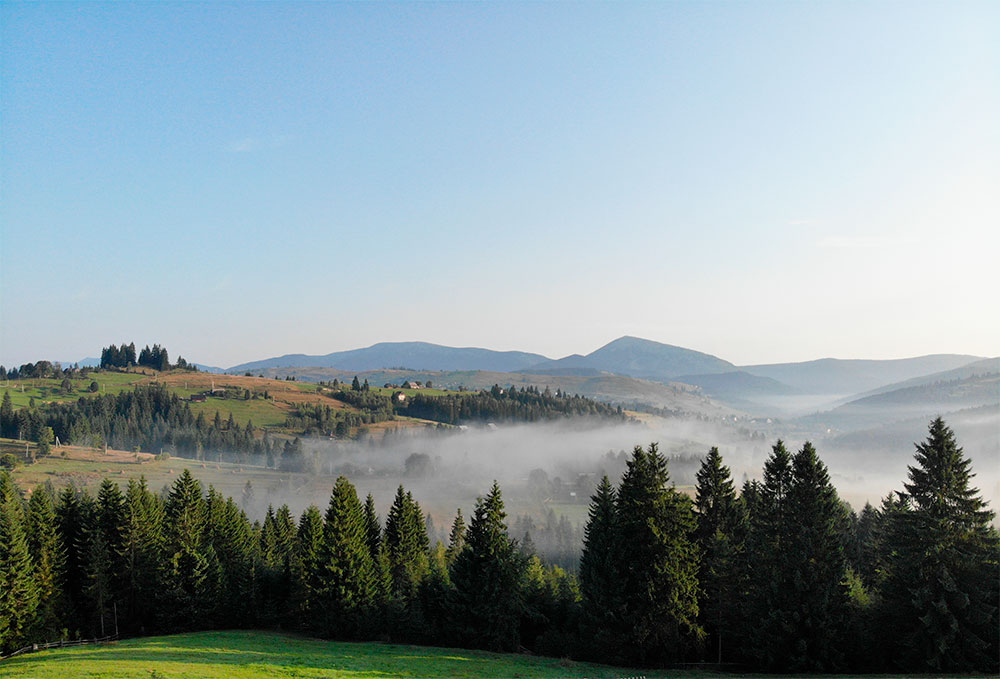 In addition to the fact that Yablunytsya itself is located next to two major ski resorts, it has 9 ski slopes (6 red and 3 blue), designed for intermediate athletes, beginners and children. It is convenient to learn to ride here if you are afraid of the queues and the congestion of the slopes in Bukovel. It is worth noting that in Yablunytsia, skiers mainly ride from three peaks: the mountains of Mikulinka, Koza and Del. Their height is just over 1,000 meters. At the same time, the width of the slopes does not exceed 150 meters everywhere.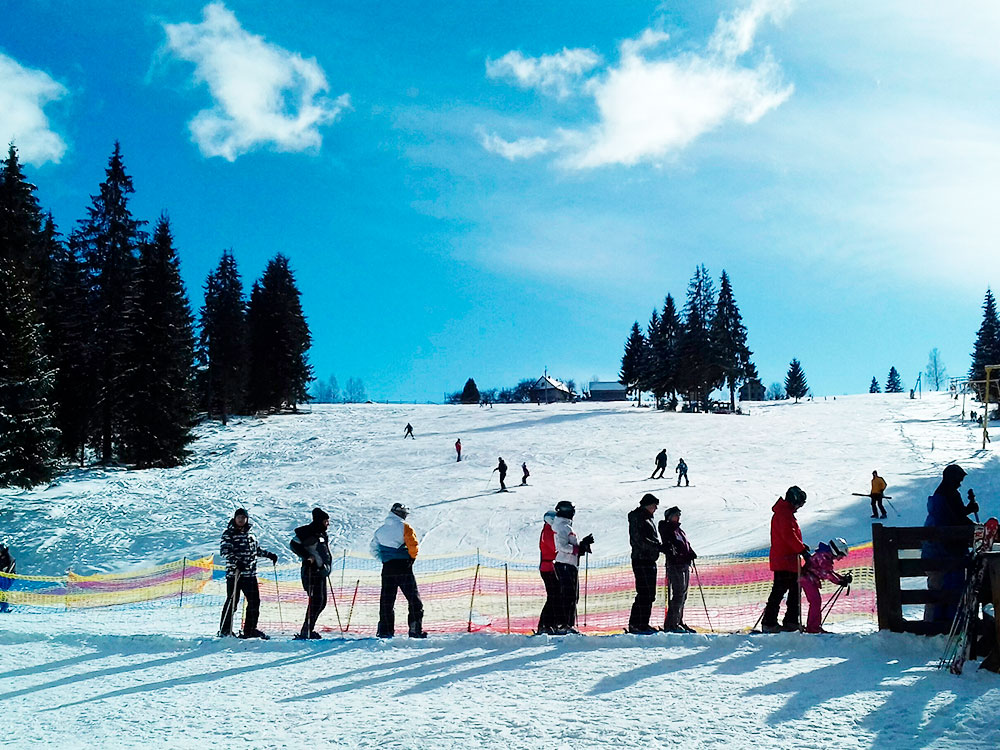 There are no black slopes in our village, therefore, for very experienced skiers and boarders who are lovers of extreme sports and have chosen Yablunytsya to live, we advise you to go to Bukovel for thrills – there are many such slopes there. Snow suitable for skiing lies here from December to March. Ski lifts are open from 9:00 to 17:00. At night, the tracks are not illuminated, so you will not be able to ride at night.
In general, it should be noted that many thrifty tourists specifically settle in Yablunytsya, and go to Bukovel to ride, because housing and food are much cheaper here, especially since recently these two resorts have been connected by a new road. Getting from Yablunytsya to the famous ski resort is not problematic – there is enough transport.
And if you decide to go on vacation to the Carpathians in your own car, then, without any hesitation, choose our village! Thrifty guests can rent accommodation of any level of comfort here. If you choose our guest house "Chillax", then see for yourself – here is the best ratio of comfort and quality of accommodation 😀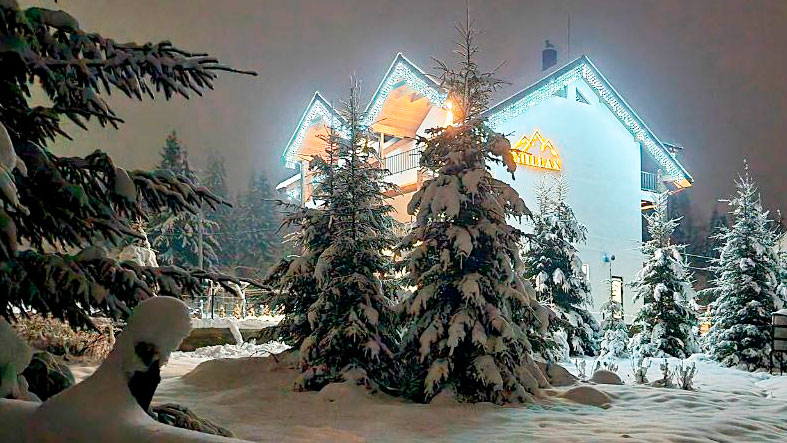 In Yablunytsya there are many shops and eating establishments (you definitely won't have to wait in lines even in the high season, unlike Bukovel). If for some reason you do not have to get to our resort village in winter, be sure to come here in the warm season. Our village is located near one of the largest natural parks in Ukraine – the Carpathian National Natural Park. This protected area is spread over the Gorgan and Montenegrin massifs. The highest point of the Ukrainian Carpathians – Mount Hoverla – is also located within this natural reserve.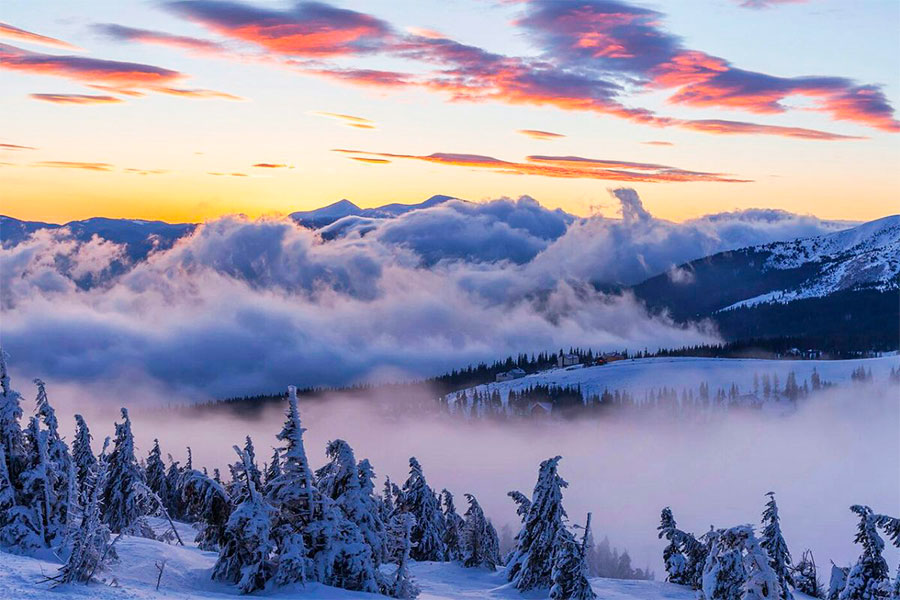 In summer and autumn, there is something to do in Yablunytsia: you can go rafting on the Black Cheremosh River, fish for trout, ride horses or bicycles, pick organic berries and herbs, walk among centuries-old Carpathian firs and endless Carpathian meadows. Rest here you will definitely remember for a lifetime! One has only to take into account that the cost of renting housing may depend on the season (in winter and on holidays it is more expensive). Therefore, choose our Chillax hotel – you will definitely be satisfied 😀
Where is located
Yablunytsya, Ivano-Frankivsk region.
Location on the map