Many Ukrainians dream of having a rest in the Carpathians in winter. For sophisticated winter sports enthusiasts, choosing a location is usually not a problem. The situation is different with people who have not yet been to the Ukrainian Carpathians and have never skied or snowboarded here. First of all, they are interested in two questions:
Where is the best place to rent a house for a winter holiday in the Carpathians?
What ski equipment do you need to have for winter sports?
The answer to the first question is quite obvious: if you want to spend your vacation with maximum comfort and at the same time not overpay, then the best option is not to settle in the famous Bukovel, where even in the off-season there are a lot of people and exorbitant prices for literally everything, but close to it – for example , in our guest house "Chillax", located in the mountainous village of Yablunytsya at a distance of just over ten kilometers from Bukovel.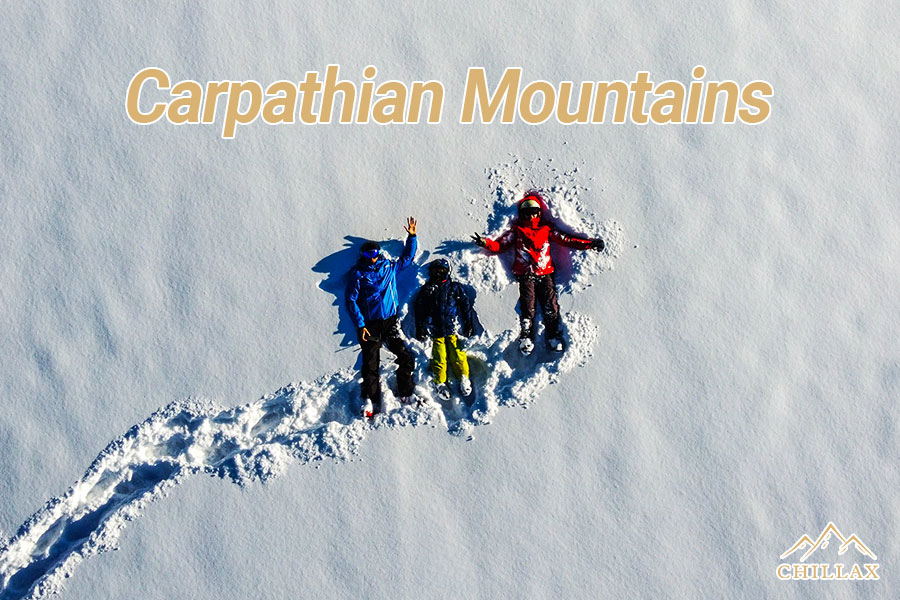 Believe me, winter holidays in Yablunytsya are much cheaper, but no worse than in Bukovel. Our village is located quite high above sea level, there is the purest healing air here, and therefore Yablunytsya is considered a high mountain resort. The village is surrounded by mountains on all sides. There are a sufficient number of trails of various lengths and different levels of difficulty; you can get to the beginning of the descent on completely safe and reliable lifts. For beginners who came to the Carpathians for a winter holiday, here are ideal conditions. What sights can be seen in Yablunytsya we wrote in our blog.
Everyone can learn how to ski or snowboard correctly and safely in just a few hours – certified instructors will help to do this. For beginners and children, for starters, they offer to go down the most simple routes. Yablunytsya has a well-developed infrastructure: there is everything you need for a full-fledged comfortable stay. And in our Chillax hotel you will find excellent spacious rooms, delicious food for every taste and friendly staff ready to do everything possible for you 🙂
About ski equipment
Now let's move on to the second question – about ski equipment. It should be noted that properly selected equipment is not only a guarantee of successful skiing, but also a guarantee of your well-being and safety. Before you go to the Carpathians in winter, you need to take care of high-quality waterproof clothing and shoes that will protect you from strong winds and moisture. Equally important are a ski helmet, goggles and other accessories.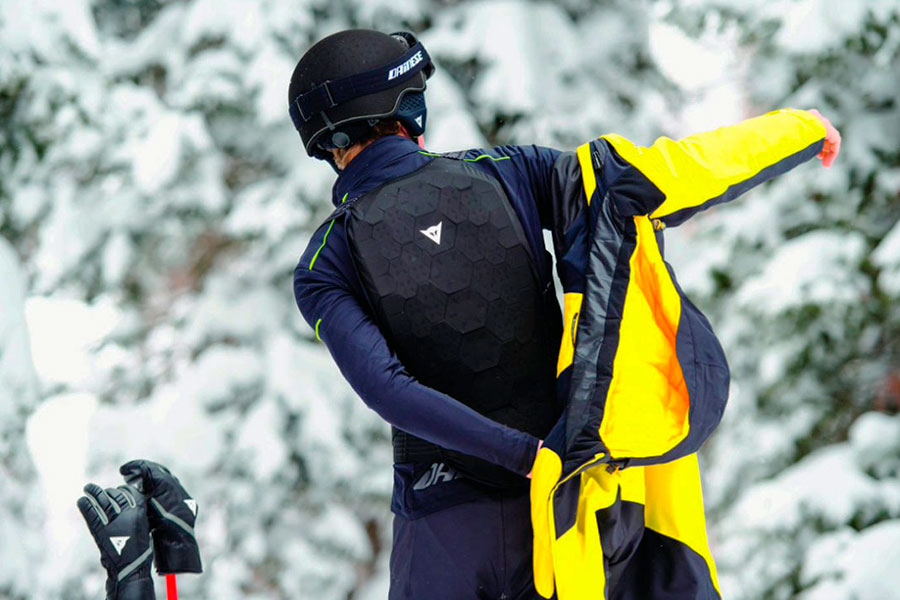 If you want to ski comfortably on the slopes, be sure to wear a complete set of ski equipment. It is best to choose clothes and accessories made specifically for skiing, because a regular (even high-quality) winter jacket will not protect you from the rapidly changing weather conditions high in the mountains. You can also forget about flannel T-shirts and cotton socks – they accumulate moisture due to sweating during skiing. To make skiing or snowboarding downhill from the Carpathian mountains as exciting and safe as possible, it is worth buying modern special sportswear and shoes. Read 12 useful tips for those who are going to the mountains.
How to choose a ski jacket?
In the Ukrainian Carpathians in the winter season there are often difficult weather conditions, which are especially felt when driving fast and dynamically. Therefore, the most important element of equipment is a ski jacket, which will reliably protect you from cold and moisture from the outside, and at the same time protect your body from overheating.
The main properties and features of a good ski jacket:
Breathability – the higher it is, the less we sweat, the body remains dry and we feel warmer. It is best to choose jackets only from special breathable materials such as Gore-Tex, SympaTex, Hydrotex or similar.
Water resistance – measured in millimeters of water column and shows how much water pressure clothing can withstand. When riding in snow, it is advisable to have a jacket with a water resistance of 5000-10000 mm. art., and for winter sports in extreme conditions, it is better to
choose models with an indicator of up to 20,000.
Good ventilation – this is ensured by zippered vents under the armpits.
The optimal length is better if the jacket is long enough to completely cover the buttocks.
High collar.
One-piece hood with visor.
Laminated seams to prevent water from seeping through.
Sewn-in or removable snow "skirt" (thanks to her, if you roll over, the snow will not fall under the jacket).
Profiled sleeves.
Velcro adjustable cuffs.
It's not worth saving on a jacket; therefore, if your finances are limited, it is better to buy a high-quality ski jacket from a well-known global manufacturer, and in return save on other clothing or accessories.
Ski pants and other basic components of ski equipment
It is also desirable for a skier to have such clothes and shoes:
Ski pants. They should be made, like the jacket, from breathable and waterproof materials, and the waterproofness of the pants is just as important as for the jacket. Ideally, ski pants should be equipped with suspenders, inner cuffs to keep out the snow, and a waterproof zip.
Thermoactive underwear. This is an excellent substitute for cotton counterparts, because such thermal underwear retains heat better and removes sweat from the body, rather than retaining it. To perform its function, thermoactive underwear must fit snugly to the figure, but not restrict movement. It is best to buy models with flat seams or seamless.
Thermal socks. They, like underwear, wick away sweat. On sale now there are models of such socks made with the addition of a silver thread, which gives them antibacterial and antifungal properties. It is worth making sure that thermal socks have reinforcement in places most prone to abrasion.
Hat. For skiing, it is best to buy a hat with a windproof membrane. It should fit snugly to the head, cover the ears and forehead.
Gloves. Should be made of waterproof material and allow freedom of movement, so it is better to choose five-finger gloves. It is good if they are covered from the inside with non-slip material and equipped with additional adjustment, for example, Velcro.
Ski boots. We recommend that a beginner choose soft ski boots (with a stiffness index of 40 to 70 – these are the most comfortable). The main thing is that they sit tightly on the athlete's leg. There should be no "reserve" in length!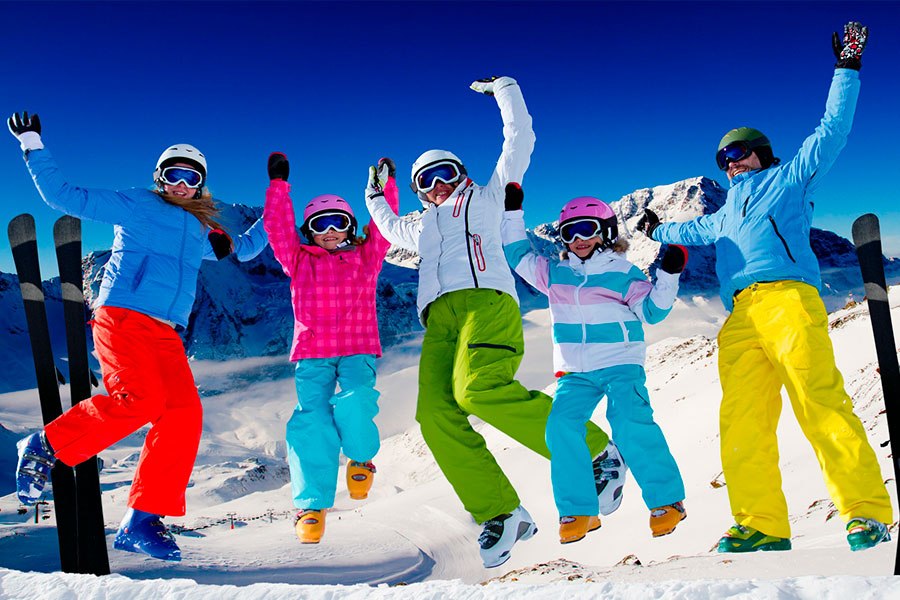 It is also necessary to supplement the equipment for winter holidays in the Carpathians with a ski helmet, a balaclava (balaclava) and ski goggles. These accessories greatly increase the safety of riding on a mountain slope, especially if you are a beginner skier or snowboarder. When choosing a ski helmet, you need to pay attention not only to the appearance, but also to its properties. In particular, it should have a very strong but lightweight outer part.
A good ski helmet must absorb vibrations and distribute the impact force. Equally important is the inside of the helmet (i.e. the lining) – it should be made of a soft, breathable material such as expanded polystyrene. Slightly more expensive models can be additionally covered on the inside with an anti-allergic or antibacterial lining.
A balaclava under a ski helmet is not a mandatory thing. As a rule, it is worn if the air temperature drops below -20 °C or a strong wind blows. The balaclava is a fabric construction with slits for the eyes and mouth. It is used to provide greater comfort: the balaclava protects the athlete's face from snow, frost and wind flying towards them, which create noticeable discomfort when driving at high speed.
Ski goggles are an essential part of a skier's or snowboarder's outfit as they protect the eyes from harmful UV radiation and flying snow. Goggles must fit the helmet so that both of them, when worn together, are compatible and provide a wide viewing angle. The compression band must be adjustable to ensure the optimal fit of the glasses on the face.
On the market there are safety glasses with lenses of different colors. The color of the lenses is related to the light transmittance – the higher it is, the more light enters the eye. For recreational skating, universal lenses with a transparency of 25-60% are best suited, which are suitable for both sunny and cloudy days. For a beginner, we recommend choosing yellow, amber or brown lenses.
How much can good ski equipment cost for a winter holiday in the Carpathians?
Good quality ski equipment can't be too cheap. Clothing of the lowest price range will perform normally in optimal weather conditions in the Carpathian Mountains (light frost, light breeze, light snowfall); but when the weather becomes less predictable, it is almost certain that you will sweat or freeze in a jacket for one to one and a half thousand hryvnias.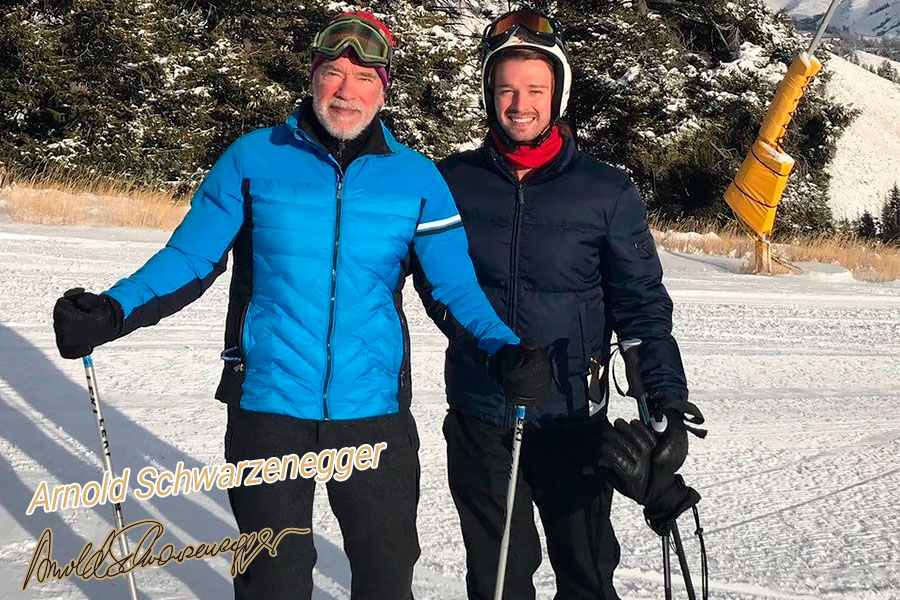 Of course, beginners who are not sure if they will like skiing can also buy cheaper clothes or even just rent their main components from our rental centers in the village of Yablunytsya. However, such a decision will be good only at the beginning – if you ski or snowboard every year, we recommend buying more expensive clothes from well-known brands. Approximately, the cost of high-quality ski equipment of an average level can be fifteen to twenty thousand hryvnia (it all depends on your preferences).
We will tell you about the choice of skis, snowboards and sports equipment for winter holidays in the Carpathians in the following articles 🔔
Of course, skis, snowboards and the necessary sports equipment can be rented here on site. So, it is not necessary for beginners to buy them at all 🙂
Come to us in the Ukrainian Carpathians!
We invite you to the winter Carpathians, we will gladly receive you, provide you with comfortable accommodation, and we will feed you delicious food! Just keep in mind that in the winter season there are a lot of people who want to relax here! So, we ask you to book rooms at the Chillax Hotel in advance 🙂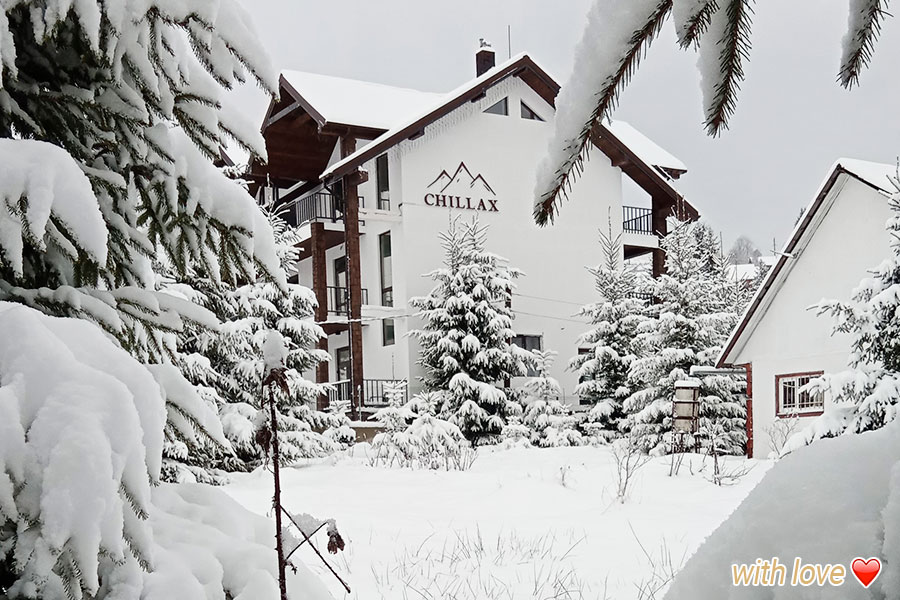 We are waiting for you ❤️